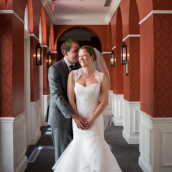 Kami was absolutely amazing. The photos were great, she was really professional, super friendly and great to have around for the wedding. And getting all the prints and a second shooter for the price she charged us was amazing. By far the best value of any of the photographers we looked at. I can't rate her highly enough. Any time I need a professional photographer we'll be back. Thanks Kami!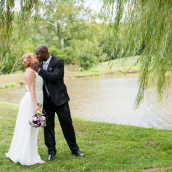 We were fortunate to find Kami's website by searching for photographs of our wedding venue. She responded to our inquiry quickly and I immediately felt like Kami was the right photographer for us. She was willing to customize a package to meet our needs and answered our questions promptly. She and her colleague, Shelby, arrived early on our wedding day, found some great photo locations and provided exactly the right balance of direction and letting us be ourselves. Both ladies fit in so well with our wedding guests. We received a few photos the day after the wedding and were absolutely thrilled! We have now had time to review all the photos and really could not be more pleased. Kami and Shelby are incredibly talented and we would highly recommend them to others.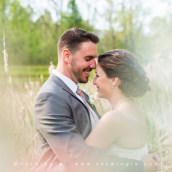 My husband and I attended our friends wedding in October 2012. We got engaged in December of that year and within a few weeks, we had an email from our friends raving about their photographers. After seeing the pictures from their wedding, we knew immediately that we wanted to go with NKswingle for our wedding. In fact, we didn't even look into any other photographers. We could not be happier with our decision! Although we mainly communicated with Kami, both her and Nick were great about responding to emails and setting up the engagement shoot. Although my husband seems to be a natural in front of the camera, I was a little more shy (aka awkward), but Kami was GREAT at making me feel comfortable. The actual wedding day went without a hitch! Kami and the Aaron (the second photographer) took some amazing photos and seemed to fit right in with our wedding party. They came up with great ideas for photos and we loved all of them. They were also able to get us all of our pictures back in no time at all and when we passed them around to our family and friends we heard many times " I wish our photographer had done such a good job with our wedding" You will not regret going with Nkswingle! We will do as our friends did for us, and recommend them to all of our friends who get engaged!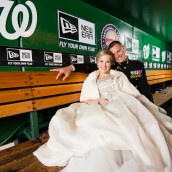 Kami and Nick were AMAZING. I could not be happier with the photos from our wedding. It was worth every dollar – and more. They always responded to my emails within a few hours of sending. They threw out ideas for photos that I would have never thought of. They were willing to meet with me and my mom before the big day to go over a schedule and photo op ideas. They were on time the day of the wedding, and spent 10+ hours with us! The photos from our wedding were breath taking. There isn't one photo I don't love. Kami was really great with recommending sizes and a company to do a canvas print once we got the prints. They even brought on a 3rd photographer the day of who was amazing. We all felt so comfortable with the three of them – it was like we put on fancy dresses and uniforms every day and trekked through Washington DC to take photos. They were so friendly and really made us feel comfortable, and we had a blast doing it! I felt like me, my husband and bridal party walked away that day with three new friends – that's how fun it was! If I could get married every weekend, I would deplete my savings account to have Kami, Nick and Aaron there to capture the moments – over and over again! I would absolutely recommend them to anyone who ask!!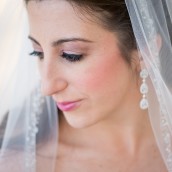 Kami and Nick, words simply can't express how much we love our pictures! You captured us as a couple so completely – we will treasure these pictures for the rest of our lives!! Thank you, thank you, thank you!!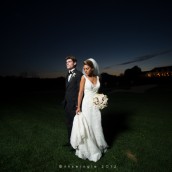 These look AMAZING. Thank you so much for sharing your gifts with us!!! Kami, you and Nick are amazing photographers (and people)!!! We love you! ♥ Thank you for everything!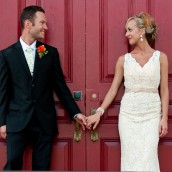 Words cannot do this team justice! Nick and Kami were the epitome of professionalism photographing our wedding. They intently listened to our hopes and vision for the big day, took those into account, and then let their artistic creativity guide them throughout the wedding weekend resulting in beautifully intimate and candid images. Kind and engaging, they created a relaxed atmosphere that brought out the complimentary best of everyone involved. We will be treasuring our wedding photos for years to come!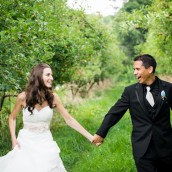 Thank you SO much for being such wonderful photographers at our wedding! We really enjoyed working with both of you at the wedding and we definitely appreciated you working with (humoring?) our ideas! Kami, I REALLY appreciated you taking the time to talk to me about shooting more photos with Jesse and I together before the ceremony. I am so thankful that we had that extra time to get some more photos. Without that, I wouldn't be able to say that I ran through an apple orchard in my wedding dress!  Almost all of our wedding party individually came up to Jesse and/or myself to tell us what a cool/fun/awesome photography duo we had at the wedding.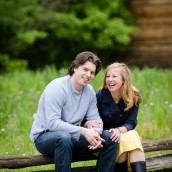 Kami – these turned out SO well. Thank you so much!! Your work is beautiful!! We can't wait to have you at our wedding in September.